Brand new episode out now with Gary Delaney!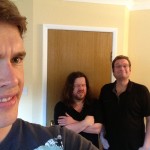 Oh hey there.
There is a brand new episode of that thing some of you like featuring very special guest Gary Delaney.  You can get it on the iTunes and the chortle.co.uk.
Our show is Heart - Throbs, 9.45, Pleasance Courtyard.  Yeah, that's right, it's still fucking on.
x