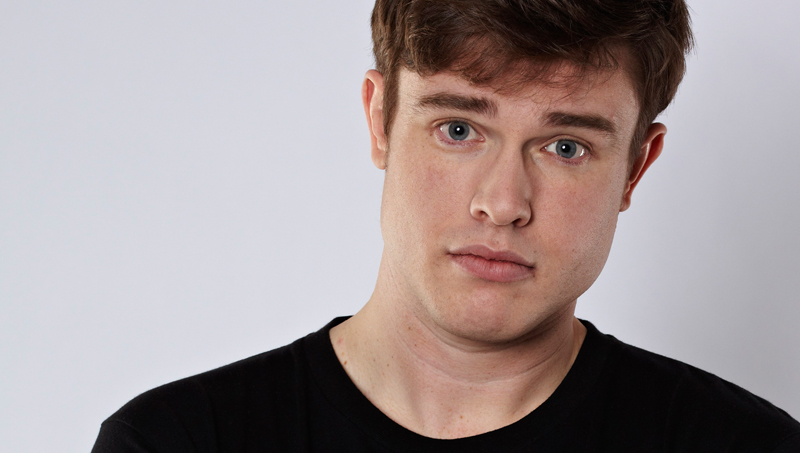 Well hello there madam. I assume you are a woman, because you are reading this bio of Ed Gamble – probably late at night with all the lights down low, and you are breathing all heavy and you have shut the cat out the back so it doesn't disturb you reading about Ed.
This isn't Ed writing this by the way, this is Kofi Annan. So anything I say about Ed you should take as absolute fact because I am very trustworthy. After all, I was the head of NATO (I think?).
When Ed asked me to write this biography for him, I was at first shocked, then honoured, then very, very teary and then a little bit sick in the toilet. (I think the last one was because I had had an old yoghurt at lunch that day). But I wiped my mouth, put on my trousers and pants (I go bottomless when I'm in my den) and sat down at my computer (a gift from NATO). Here are the fruits of my many hours of toil…
Ed Gamble, for the purposes of this biography, was born aged 19. This, after all, is strictly about his comedy career and as we all know, early life has very little bearing on the reason why someone feels the need to beg for the love and acceptance of anonymous strangers night after night.
He began performing at university and took several sketch shows to the Edinburgh Fringe, which were of varying quality (varying from "putrid" to "passable if the audience got behind it from the start.") It was at this time he started performing stand - up comedy, reaching the latter stages of some major competitions (So You Think You're Funny, Chortle Student Comedian of the Year etc blah blah).
Around the year 2007, Ed received a call from Ray Peacock, who begged him to be on his podcast. He said: "oh please come and be on my podcast Ed or I will deliberately wee my knickers." Ed agreed, not wanting Ray to have to shell out for yet another pair of fresh panties. This was The Ray Peacock Podcast, and Ed did 4 episodes, because he was too busy to do them all what with having a life. That life soon crumbled however, and Ray and Ed went onto create the much better and more Ed centric Peacock & Gamble Podcast. This was nominated for a Chortle Award, played on BA In Flight Entertainment, and led to the boys being hired as permanent presenters on BBC Radio 4 Extra.
The bloody lads have since gone on to develop their winning chemistry into a stupid and foolish double act (steady on Kofi – you're supposed to be bigging me up! Ed.) performing to sell out seats at the Fringe with Peacock & Gamble Emergency Broadcast which went on to tour our great nation and led to a performance on Russell Howard's Good News. They are currently working on a new show: Peacock & Gamble Don't Even Want To Be On Telly Anyway, which is every bit as petulant as it sounds and will be "performed" at the Edinburgh Fringe 2012 and on tour round our great nation.
As a stand up and writer, Ed has achieved this following list of things. (I'm getting tired and I feel like a lot of you should know all this anyway.)
• He's only bloody performed on Russell Howard's Good News (BBC3).
• What's that? Yes, he has done a turn on Dave's One Night Stand (Dave).
• Supported anyone on tour? Why yes – only the brilliant Greg Davies on his national tour. Is he doing the next one in Autumn 2012? Too right!
• Did he find time to support Russell Kane on tour? Yep.
• Has he scribbled some jokes that have been said on Mock The Week and Ask Rhod Gilbert? Of course – wouldn't bring it up otherwise.
• Please tell me he's written for the upcoming Anna & Katy Show (C4). He has? Thank fuck for that.
• If he didn't perform in the Comedy Zone at Edinburgh 2009 then I'll eat my hat. He did, put your hat down.
There we go – by now you should have a complete and full knowledge of Ed Gamble. Why not compliment all this by seeing him live in your area? Just check the Live Dates on this very website for all those days when you can see him and Ray or just him or just Ray if you want to be like that.
Thanks so much,
Kofi.