Brand new episode with Sarah Millican OUT NOW!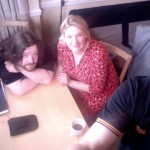 Well. I've probably said it in the headline really…
There is a brand new episode of the podcast out (now, on iTunes and chortle.co.uk) and today we have a stupid chat with Sarah Millican. It's lovely, you should have a listen if you like.
Our show is Peacock & Gamble Heart - Throbs, every night until the 25th at the Pleasance Courtyard.
See you there?
x