Episode 13 is out now with Daniel Sloss!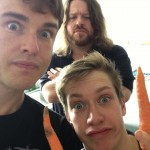 Hello.
We have released episode 13 on the iTunes for your listening "pleasure". It features some of the worst behaviour we have ever witnessed from snotty wee lad Daniel Sloss. Don't worry, we proper tell him off.
It's on the iTunes and chortle.co.uk and our show insists on happening still at 9.45pm at the Pleasance Courtyard every night.
x