New episode with Ed Byrne out right NOW.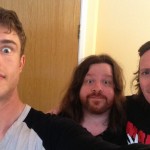 Hello!
There is a new episode of the Peacock & Gamble Edinburgh Podcast out on iTunes and chortle.co.uk right now, where we "interview" our special guest Ed Byrne, from comedy.  Go and get it and listen, although if you don't we won't know.
Our show is Peacock & Gamble Heart - Throbs and it goes on at 9.45pm in the Pleasance Courtyard.  See you there?  That's great.
x