New Episode?! Yep. Alex Horne? Yes.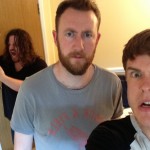 That's right, there is a brand new episode of the P&G Edinburgh Podcast out right sodding now on the iTunes and chortle.co.uk with special guest Alex Horne.  The equipment kept breaking.  I think we are cursed.  Many would say that this amount of talent is a curse.  And when I say "amount" I mean "very little."  Anyway, get yourself on the iTunes and chortle.co.uk and check it out with your ears.
Our show Heart - Throbs continues to happen at 9.45 at the Pleasance Courtyard, so get yourselves down there before we implode.
Much love,
RP & EG
x