Brand New Episode Out Now, with added Tiger Lillies!!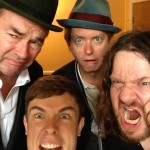 Hey there,
Just to let you know that the brand new episode for Monday of the P&G Edinburgh Podcast is out now, featuring very special guests The Tiger Lillies.  And absolute privilege to interview them, and I think we just about held it together.  Have a listen, see how pathetic we are.
You know all the stuff about our show, so I don't need to tell you it is called Peacock & Gamble Heart - Throbs and it is on at the Pleasance Courtyard at 9.45 every night because you know that already.
x