Episode 9 with Arthur Smith OUT NOW.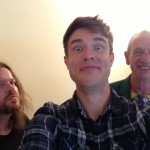 'sup peeps.
Ep 9 is all up in your iTunes and chortle.co.uk wit special guest Arthur Smith.  It's a proper funny one as well as having some proper interesting stuff in it as well.  That's worth buying right?  Well what if I told you it was FREE??!! You probably wouldn't be surprised - all podcasts are, it's pretty well known as a free medium.
Remember - P& Heart - Throbs, every night Pleasance Courtyard, 9.45pm.  Book early as you can, it has been selling out - so much so we have added extra sex shows at 00.15 on Fridays and Saturdays in the same room.
Enjoi boi!
RP & EG
x