Episode 8 out now with ADAM BUXTON!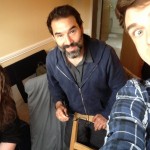 Oh, hey guys.
Just a quickie to say that episode 8 of the P&G Edinburgh Podcast is out now on the iTunes and chortle.co.uk for you ears (on the side of you head mostly.)  It's with special guest Adam Buxton, who was a charming interview and happily talked absolute nonsense with us for a bit.
Don't forget our show is Heart - Throbs at 9.45pm every night at the Pleasance Courtyard, and on Friday and Saturdays there are extra late night shows at 00.15.  Listen, download, buy tickets, be kind to animals.
BYE
RP & EG
x