New podcast with Matt Lucas out NOW!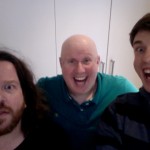 Hello -
Right now there is a brand new podcast on iTunes with Matt Lucas as our special guest. This is only part one of our brilliant interview with him. Imagine that! More to come. Apologies if you had trouble getting this on iTunes yesterday - all errors have been ironed out now.
SO GET IT. From iTunes and chortle.co.uk, and let's keep us up there in the charts!
Look out later on for a new episode with the Boy With Tape On His Face, it's a lovely one.
AND please buy tickets and come to Peacock & Gamble: Heart - Throbs, 9.45pm every night, Pleasance Courtyard.
Peace Out
Ray and Ed
x