Radio Gig and more news and smiles.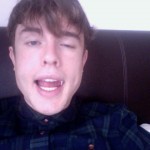 Hey guys.
More news and that.
Last Saturday we recorded a bloody lovely gig at the Cheltenham Literature Festival for BBC Radio 4 Extra, where we did some of our jokes and comedy and humour. It is broadcast on 4 Extra THIS FRIDAY (12th October) at 10pm. It features many other wonderful acts, but mainly us is the important bit so don't get carried away.
We continue to tour of course, and those of you in Norwich can catch us at UEA this Saturday (13th October). And also please don't forget that we perform our solo hours at Kings Place, London on November 1st and then the Peacock & Gamble Overkill at the same venue on December 20th. This is our brilliant show as well as a LIVE PODCAST.
We'll see you at one of those soon. In the meantime, here is a picture of us from a recent gig where we played in some leaves.