Episode 21 out now OH EM G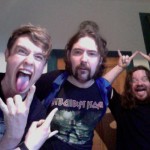 Hey,
Episode 21 of the Edinburgh Podcast is out now for free on iTunes and chortle.co.uk with special guest Nick Helm.
It's brilliant. Also, the our show which is Peacock & Gamble Don't Even Want To Be On Telly Anyway is still fucking on at 9.40pm every night at the Pleasance Dome Dome thankyou.
P&G
x