Back on the horse with episode 20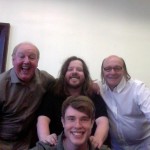 Here we are then. After a day off, we are back with a belter for free on iTunes and chortle.co.uk with brilliant special guests Mick Miller & Jimmy Cricket!
Not many left now, with some more great guests to come.
The show has been going really nice so why not come to that? What do you mean "I'm not in Edinburgh"? That's not an excuse. 9.40pm, Pleasance Dome Dome.
Enjoy, see you tomorrow.
P&G
x