HAPPY 18TH TO THE EDINBURGH PODCAST!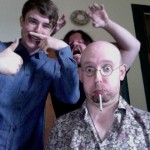 That's right - it's the Peacock & Gamble Edinburgh Podcast's 18th birthday! Finally, it is an adult - but in no way is it grown up or mature. So let's all raise a glass to the Edinburgh Podcast as it smokes all its cigarettes and gets a lady podcast pregnant.
You can listen to all the celebrations for free on iTunes and chortle.co.uk - and it features special guest party entertainer Silky, who is brilliant.
MANY HAPPY RETURNS,
P&G
x