NEW SEXY INTERVIEWS AND GREAT WORDS!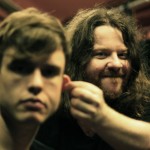 Hey boys and girls,
You are probably wondering how we are getting on up at the Fringe. We've not done our first show yet, that is tomorrow (Wednesday August 1st) at 9.40 at the Pleasance Dome and it is called Peacock and Gamble Don't Even Want To Be On Telly Anyway as if you didn't know. Tomorrow also sees the release of the first Peacock & Gamble Edinburgh Podcast with special guest Greg Davies - but until then, just to keep you satisfied, here are a couple of sparkling and witty interviews we have done recently.
You can read us talk toss in The Huffington Post HERE.
Want more?! Of course you do, you dirty word whores. Why not read a massive interview with us on the great Den of Geek right HERE
Until tomorrow for all those exciting things,
P&G
x