On July 17th 2016, Peacock & Gamble sold out Wembley Stadium. But how did they get to this point?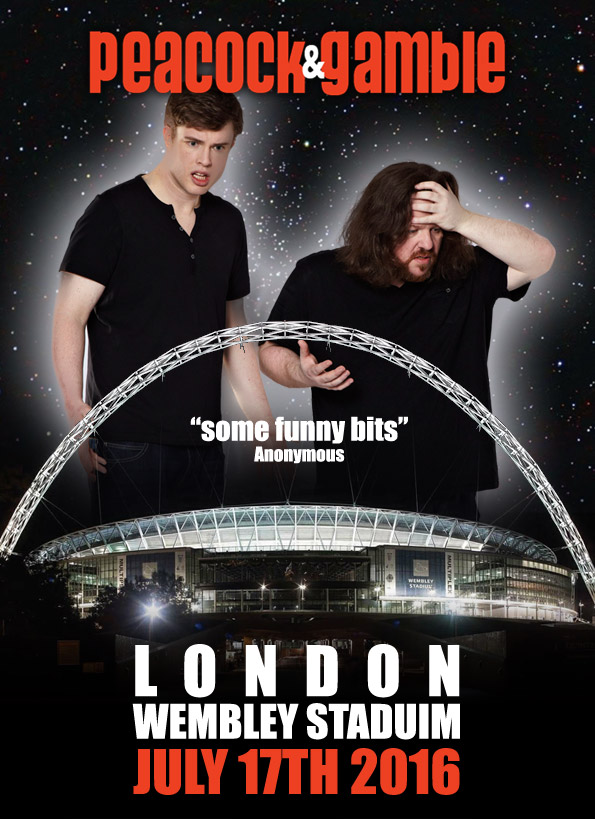 The world used to be a desolate, sad and dark place. A barren land where nothing would grow and the only sustenance for the craggy ground came from the tears of recently orphaned children. And then, in 2005, Ray Peacock and Ed Gamble met. A rainbow exploded across the sky and God winked.
They met at a gig at Durham University where Ed was a student performing groundbreaking and life changing sketch comedy (in one scene, he played a shit vet.) Ray was booked to compere a charity show that Ed was performing in, and it was here that the first brick was laid on the road to greatness. Ray is quoted as saying that he liked Ed because he was "polite" and Ed is quoted as saying he was "told' to be nice to Ray to be "polite". To this day, Ed is still being "polite".
They stayed in contact, and in 2007, Ray asked Ed to guest on his podcast THE RAY PEACOCK PODCAST which also featured ANOTHER BLOKE. This enjoyed success on iTunes (record shop in America), won them a loyal fanbase and also enjoyed a sell out run at the Arts Theatre London as THE FIRST PODCAST TO BE PERFORMED LIVE NO MATTER WHAT ANYONE SAYS.
Not content with winning the internet with that podcast, in 2009 Ray & Ed put Ed's name in the title, creating the PEACOCK & GAMBLE PODCAST. It won them yet more fans (mainly boys) and yes, let's be honest, was amongst the sexiest things ever committed to sound. It was even featured as part of the in-flight entertainment for BRITISH AIRWAYS, mainly because no one at the airline listened to it before they put it on the planes. It too enjoyed numerous sell out live versions and consistently charted in the iTunes top 10.
Eventually, the demand got too much. People were like "we love their voices. But what we would really love if we saw their faces and heard their voices at the same time." Never ones to not bow to public and female pressure, in 2011 Ray and Ed started building material for a double act show to perform at that year's Edinburgh Fringe. This show became the PEACOCK & GAMBLE EMERGENCY BROADCAST and marked a departure from the podcast format (but that didn't matter because everyone just assumed it was a fucking podcast anyway.) As a result of how awesome the show was and how much it smashed the Fringe, Peacock & Gamble appeared on RUSSELL HOWARD'S GOOD NEWS doing some of their humour. BBC THREE phoned them up and said "Oh please will you come and be on other programmes? You are the best thing that has ever been on our channel" but Ray and Ed said "No thank you, we don't agree with your programming policies" and that is what happened.
Then the Fringe called up straight after and they went "Hey guys, it's the Fringe here och aye. Please come back and do another show. I've been listening to your brilliant presenting on BBC RADIO 4 EXTRA and I came to every date of your NATIONAL TOUR. Just please, please come back or I don't think it will be worth running a festival this year." And lo, Peacock & Gamble did begin prep to return, with PEACOCK & GAMBLE DON'T EVEN WANT TO BE ON TELLY ANYWAY, which many have already called "the most petulant show ever said out loud".
So on July 17th, 2016, the roar of the crowd welcomed P&G onstage at Wembley Stadium. Ignoring the deafening screams of excitement and effortlessly dodging all the thrown gifts, they quietly nodded at each other because they know everything that they have shared in the past to get here. And now so do you. Biography out.