THIS IS THE FIRST NEW UPDATE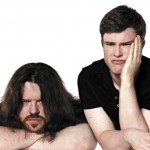 Hello.
This just a quick update to let you guys know that we will be updating this website a lot more regularly from now on, with fun trinkets, live news, lovely smiles and a massive shitload of nice.
For the first update in this new series, we are posting a picture of a man who works for our management in their marketing department in the very meeting when he told us we had to start updating our website more.  So, serves him right really.
Apart from that, we are still on tour for the next billion years, so check the Tour tab for that.  Until that, enjoy the photo.